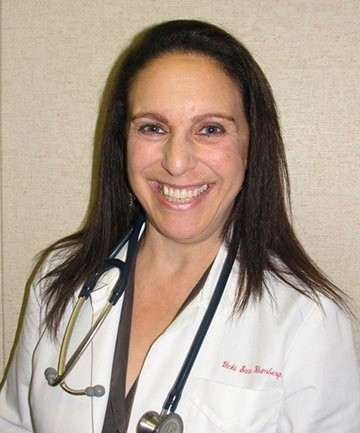 Vicki Sara Blumberg, M.D., is board-certified in internal medicine with 34 years of experience. Dr. Blumberg started her career in a large family practice in New Fairfield, CT, followed by a solo Danbury-based practice where she cared for over 4,000 patients over many years. After developing an autoimmune disease, she took a detour from clinical practice to pursue clinical research. Dr. Blumberg opened a clinical research investigator site in Ridgefield and participated in over 20 clinical trials over 8 years, including a landmark trial regarding the influenza vaccine for the elderly.

She focuses on a more holistic way of looking at 21st-century disease; especially allergic, autoimmune and chronic illnesses, and the relationship between the immune system and the microbiome. She practices Low Dose Immunotherapy, which deals with inducing immune tolerance to the allergens or invaders to which the body is inappropriately overreacting. This can eliminate symptoms using the body's own mechanisms of healing. She has had much success, for example, in treating chronic Lyme disease and other tick-borne illnesses, in exactly this way, avoiding the use of long-term antibiotics.

Dr. Blumberg has expertise in medical illnesses, symptoms, and treatments related to mental health disorders and addictions. She is a prescriber of Medically Assisted Treatment (MAT) for people in recovery from opioid addictions.

Elizabeth Jorgensen, the founder and director of Insight Counseling, will work together with Dr. Blumberg to care for patients struggling with the emotional and physical binds of addiction. Dr. Blumberg will be sharing the treatment of patients suffering from opiate use disorders. As an additional service, she is able to certify patients for Connecticut's medical marijuana program, only when deemed appropriate and in the patient's best interest, according to the guidelines set by the Connecticut Department of Consumer Protection. Dr. Blumberg is deeply committed to her patients, compassionate in their care and we are grateful to have her join our staff as a consultant.
by